Navigating Next
A Scaled Agile Virtual Conference October 27 – 28, 2020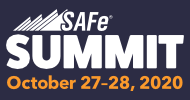 Ian and Ramesh have both attended the SAFe Summit before and highly recommend attending.
Ramesh's top reasons for attending are:
Networking
Insights
Interactions
Networking is an obvious one, you get to meet new people that have the same interests as you and learn about their strengths and share yours with them. You also gain insights into what is the next latest and greatest thing coming from SAFe. Not to mention the exclusive certification class they offer and interacting with the SAFe folks themselves.
Ian's top reasons for attending are:
Supporting the SAFe community
Networking
Hearing the latest from Scaled Agile
You get to support the SAFe community which includes Scaled Agile Inc, their partners, and their customers. Networking, again, and reconnecting with past customers, colleagues, and friends.
No matter where you are on your SAFe journey, the 2020 Global SAFe Summit has something for you.
Strategies, practices, solutions, networking, insights, and connections! Even though it is virtual there is a SAFe experts coaching station, though sessions are limited to All-Access Pass holders.
Great topics to accelerate your lean & agile journeys
DevSecOps and technical agility
Agile product delivery and customer-centricity
Enterprise solution delivery
Lean Portfolio Management
Organizational agility
Accelerating business agility
Leadership and continuous learning culture
SAFe applied
Remote collaboration and learning
Didn't Find What You're Looking For?